Dental Implants in Branford
Get the Gentle  high quality Dental Care
Dental Implants in Branford
Get your old smile back with dental implants. Admire Dental offers top-quality implants and implant restorations in Branford. Our top dentists are experts when it comes to fitting, crafting, and placing the implants in your mouth to enhance your smile. Call us today to learn more about implants in Branford, what to expect, or schedule a consultation.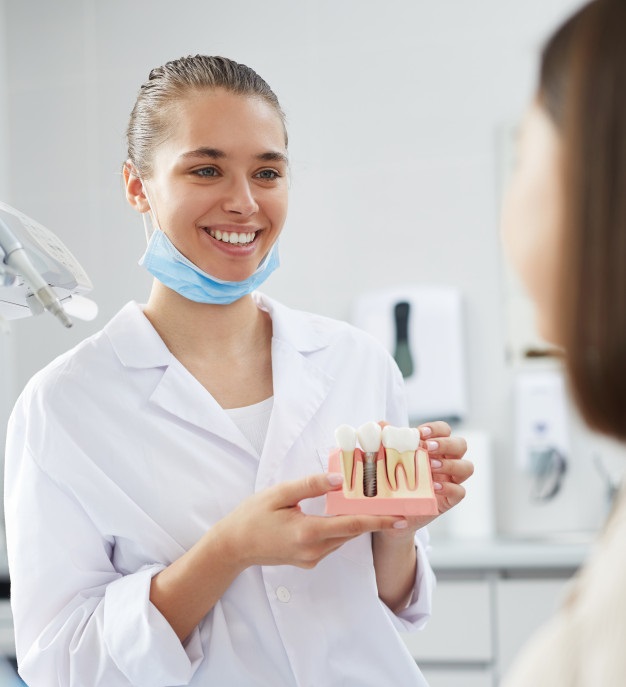 What Are Dental implants
How Do They Work?
Dental implants act as the root of a missing tooth. We pride ourselves in providing the best implants in Branford to help give our patients the confidence to eat, smile, laugh, talk, kiss, and enjoy life without worrying about their teeth. Think of dental implants as artificial tooth roots. The screw-shaped implants are surgically placed into your jawbone and seamlessly function as an artificial root.
Get Full Set of Dental Implants
Stop Hiding Your Smile
Our top dentists are giving you a new reason to smile again. Admire Dental Branford offers All-on-4 dental implants, which are a full set of dental implants that replace your entire upper or lower set of teeth. Admire Dental guarantees a safe and painless procedure at our Branford dental health offices.
Dental Implants Candidate
Are Dental Implants right for me?
We Fix Missing Teeth
Dental implants may be the solution you need to regain your perfect smile. The best candidates for dental implants are patients missing one, two, several, or even full sets of teeth. Implant restorations are long-term that mimic the feel, function, and appearance of natural teeth. To determine whether you're a good candidate for dental implants, book a consultation with our top dentists at Admire Dental Branford.
Importance of Dental Implants
Why Dental Implants are important?
Improve Your Oral Health
Dental implants are ideal for patients with severe tooth loss, looking for a permanent, natural-looking alternative to dentures. With a dental implant and an implant restoration, our best dentists can work to restore your smile, bite, and confidence after losing one or more of your natural teeth.
Are you due for Dental Checkup?